"Successful leaders do not wish to be anything
but what they are, and are most successful
when they build upon their natural talents
and strengths."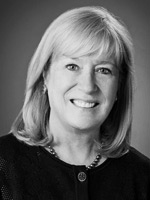 Kathy Higgins Victor brings a pragmatic business focus to the executive coaching industry. As founder of Centera Corporation, she has a conviction that to be genuinely effective and innovative in the future, executive coaching programs must be business-driven, rather than psychology-driven. From this vision a new model for coaching has evolved . . . a model where coaching initiatives directly link business objectives to the development of leadership.
Creating purposeful coaching experiences has become a passion for Kathy and her new way of coaching has been created around the new paradigms of business. She has become an expert on what role coaching can play in the 'new' corporation. Kathy has taken Centera's coaching programs beyond the traditional principals of organizational development and psychology, which reached their heyday in the 1970's, to a new era of coaching for the next century.
With 20 years of experience in senior executive and officer level positions, Kathy has used coaching strategies to help numerous domestic and international companies to gain competitive advantage during a rapidly changing business environment. She is accustomed to working in many cultures and has initiated large-scale change projects in Asia, Europe and the United States. Her experience specializing in strategic planning, marketing and sales, operations management, executive development and human resources has been gained through director and senior vice president positions with Northwest Airlines, Inc., Grand Metropolitan PLC, The Pillsbury Company and Burger King Corporation.
A cum laude graduate of Avila College, Kathy received her undergraduate degree in public administration and personnel administration. Kathy is currently on the Board of Directors for Best Buy Company, the Board of Trustee's for the University of St. Thomas and the Academy of Holy Angels. She is also a member of the Minnesota Women's Economic Roundtable (MWER). She has recently held a Governor appointed position on the Minnesota State Chemical Abuse and Violence Prevention Counsel and has held positions on two nonprofit boards: The Chrysalis Center for Women and Zonta International.
Kathy resides in Minnesota with her husband and two children.
"When you pursue what you are passionate
about . . . success will naturally follow."