"Effective leaders create exciting visions, establish challenging goals and empower their people. Utilizing this simple, pragmatic approach is critical to helping organizations and people thrive and reach their full performance potential."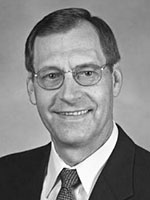 Joe believes that the most effective executive leaders are the ones who lead by exercising influence leadership skills rather than lead from the power derived from their position. Behaviorally, the best executives "coach" rather than "manage" their organization, allowing people to attain the highest level of achievement.
With 35 years of Human Resource experience, including 28 of which were at senior executive and officer level positions. Joe has coached domestic and international executives helping them to become effective leaders and change agents. In the rapidly changing business environment, Joe has worked with senior leaders at General Mills to ensure the organizations gained and maintained a competitive advantage in the marketplace. He was a change agent and was the lead HR person on a newly created international joint venture cereal business. He facilitated the transformation of a manufacturing division into a world class supply-chain organization, reshaped a domestic sales force to capitalize on the opportunities of consolidating customers in the marketplace, and integrated the sales force of two companies when General Mills acquired The Pillsbury Company. He was also involved in the creation of a new business division that grew out of the acquisition. This included a new business model, new division core competencies, and the transformation of new skill set required to compete profitably in a difficult market segment.
His business and leadership experience was gained through 28 years at the group director and vice president level positions at General Mills, Inc., 7 years at manager and director level positions with Pfizer Pharmaceuticals and 3 years as an officer and unit leader in the U.S. Army.
Joe has recently retired from General Mills. He is currently on the Board of Directors for Scherer Bros. Lumber Co., a Regent of St. John's University in Collegeville, MN, Vice Chair of St. John's $150MM capital campaign and a current member and past president of the Industrial Relations Advisory Council in the Carlson School of Management at the University of Minnesota. He received his bachelor's degree in history from St. John's University and masters in industrial relations from the University of Minnesota.
He resides in Minnesota with his wife, Kathy.