"True happiness involves the full use of one's powers and talents."
- John W Gardner, President, Carnegie Foundation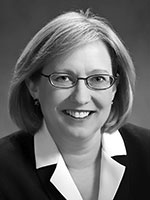 Tamara Nelson is a licensed psychologist, consultant and coach focused on psychological assessment and development for leadership and career success. Her work is guided by a model of discovery, direction and development that has been effective with a diverse group of clients from senior level leaders to individual contributors in organizations from Fortune 500 companies to small family-owned businesses. She has over 20 years of management consulting experience with organizations that include Career Dynamics, Inc., Right Management Consultants, Inc., MDA Leadership Consulting and CareerMoves.
In working with individual clients, Tamara's initial focus is on discovery. Through psychological assessment, she helps her clients gain greater insight into their key strengths, energizers, motivators and work style characteristics. Tamara is highly skilled in utilizing a wide range of assessment tools including cognitive tests, psychological inventories, 360° feedback surveys and structured interviews. She effectively integrates assessment results with other sources of information to help her clients reach a deeper understanding of who they are, where they fit best and what they can do to further their professional growth and development.
Based on what is learned in the discovery process, Tamara partners with her clients to set goals and create action plans by identifying key development areas to address or alternative career directions to explore. As a coach, she provides ongoing direction, guidance and support to her clients as they execute their plans to accomplish their goals. Her strength as a coach comes from her ability to combine professional expertise with personal warmth in a way that establishes trust, openness and a commitment to change.
In working with individuals in organizations, Tamara focuses on identifying solutions that are both consistent with her client's fundamental sense of self and aligned with the needs of the organization. Her ultimate goal is to promote the growth and development of individuals in organizations to the benefit of both the individual and the organization.
Tamara earned her Ph.D. in Psychology from the University of Minnesota where she specialized in counseling. Her Bachelor of Arts degree in Psychology is from the University of Michigan. She is a licensed psychologist in the state of Minnesota. Professional affiliations include the Minnesota Psychological Association, Minnesota Professionals in Psychology Applied to Work and the Minnesota Career Development Association.
Tamara resides in Minnesota with her husband and two children.